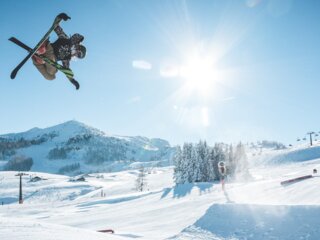 Our winter range
INTERSPORT is winter sports!
We have the right equipment for you!
Everything for winter sport in Waidring
Whether you're a beginner or a professional and whether you're a cross-country skier or a fan of ski touring: at INTERSPORT Kienpointner, you'll find a great selection of functional wear, skis, ski boots, ski helmets and accessories. We offer a broad range of products with well-known brands and competent service. Together, we're guaranteed to find the right sports equipment for you!
We will be happy to advice you
individually and personally!
Individual and personal advice: at INTERSPORT Kienpointner, you'll be served by well-trained staff who love winter sports themselves. We regularly undergo product training and expert training, and we look forward to being able to support you with our experience!
Test your skis for free ...
... completely non-binding
You're welcome to try out our skis so that you can find the right skis for you from our huge selection. If you subsequently make a purchase, you'll be reimbursed for up to 2 days of the rental fee. Simply ask our "rentertainers" about "test and buy".
Ski boot fitting at INTERSPORT Kienpointner
Ski boots – individually adjusted to your feet
Having the right ski boot is a prerequisite for a great experience on the slopes, and it increases your comfort, safety and fun. After all, your feet should feel great on the slopes and take a break too. Our latest boot-fitting technology takes the specific features of your feet into account. At INTERSPORT Kienpointner, the ski boot is thermally adjusted so that it fits your foot perfectly.
External fit: customised shell to cover your foot perfectly. Internal fit: preformed inner shoe for a fit you notice straight away.
Tip: Have you bought a new pair of ski boots at your INTERSPORT shop and noticed that they pinch after wearing them on holiday for the first time? No problem, just head to Intersport Kienpointner. We'll make sure that they fit perfectly.