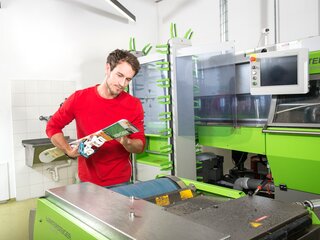 Ski servicing in Waidring
INTERSPORT Kienpointner makes your edges fit again
Best edge grip, optimal structure and the right wax on the surface
For increased safety and more fun while skiing
Well-serviced equipment is a prerequisite for a successful day of skiing. Our well-trained and specially-trained servicing professionals make sure that your own equipment or rented ski or board gets the right service. For even more fun on the slopes of Steinplatte!
It's only through regular servicing that skis and boards can deliver their full service capacity – and thus provide the skier/snowboarder with the required level of safety. So, you should visit our service coaches and get your skis professionally serviced.
Incidentally, the rental equipment at INTERSPORT Kienpointner in Waidring is serviced each time it is returned.
Daily servicing for rental skis and boards
Are you no longer 100 percent satisfied with the performance of your skis or snowboard after rapid descents down the slopes of Steinplatte in Waidring? Of course, you can make use of the ski servicing team at INTERSPORT Kienpointner at any time. Servicing is free throughout the rental period for anyone who reserved a board or skis in the Premium or Superior Class.
It's really simple: bring your equipment to us in the Steinplatte Gondelshop in the late afternoon and collect your freshly prepared skis again the following morning. Thanks to the grinding robots and coating servicing equipment from the market leader WINTERSTEIGER, we can guarantee express service and that your equipment will once again be perfectly suited to the conditions the next day. Free daily WAXING service for rental skis and boards is a matter of course for us.
Ski servicing in Waidring
The right service to meet every requirement
Choose from three different ski and board services at INTERSPORT Kienpointner in Waidring. Depending on the condition of your skis and depending on the level of your skiing ability, you can choose from three different ski servicing packages:
Grind edge of the surface from hanging position
Textured sanding on the surface
Scrape out rough scratches by hand 
and remove waxy residue
Fuse high-quality coating material all over
Extra high-quality textured sanding 
on the surface
Side edge 
from 90° to 86 °
Extra sharp edges
by request