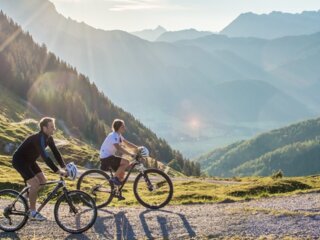 Bike servicing in Waidring
INTERSPORT Kienpointner makes your bike fit again
Good and safe journey on two wheels
We're the first port of call for your e-bike, mountain bike and city bike servicing needs
From e-bike servicing through to changing brake pads, replacing brake disks, changing the tube/cover or changing the chain: to make sure that you get lots of fun and pleasure from your bike and that you are, most importantly, safe while out and about, we at INTERSPORT Kienpointner in Waidring offer lots of services for bikers.
Each bike is used differently. That means each bike also has to be serviced differently. First of all, we check your bike's basic functions and make sure that it is roadworthy. Then an individual bike service is carried out.
Our bike services at a glance:
Checking general roadworthiness
Checking the motor, replacing the chain ring, chain cartridge and the chain if necessary
Checking and adjusting the gear and braking systems
Checking the screw connections are all at the correct torque value
Checking the light system and the reflectors
Checking, adjusting and lubricating the headset
Checking all the Bowden cables and wires for wear
Checking the tyres for wear and checking their air pressure
Checking and centring the wheels
Adjusting the gears and brakes without bleeding them
Lubricating and adjusting hubs and bottom bracket bearings
Checking the tyres for wear and checking their air pressure
Specifically for e-bikes: complete system diagnosis, troubleshooting and software updates
Even more services for your bike
Everything for your bike at INTERSPORT Kienpointner
In addition to professional bike servicing, we offer numerous other services for bikers at our shops in Waidring. It doesn't matter if it's parts replacement or installing accessories – when it comes to bikes, you can rely on us 100 percent.
Getting bikes ready to go
Installing bike computer
Updating e-bike software
Installing gears
Servicing hydraulic brake systems
Changing brake pads
Replacing brake disks
Changing the chain
Replacing the sprocket
Changing the tube / tire
Bike cleaning
Third-party assembly
Wheel centring
Adjusting the gears
Incidentally, we are the e-bikes servicing partner for BOSCH and Shimano. We offer top service for e-bike riders: our bike specialists are your first port of call for professional diagnoses, reading and deleting fault codes from the fault log, software updates and battery tests, as well as for repairs and replacement parts
Thirst for new experience?
Test bikes in our bikerental
Your bicycle is a faithful mate but somehow you want to try out something new? It does not matter if you want to experience the feeling of an e-bike or if you desire to climb mountains on a lightweight hardtail mountainbike: In our bike rental shop you will find a large selection of different bicycles and e-bikes.