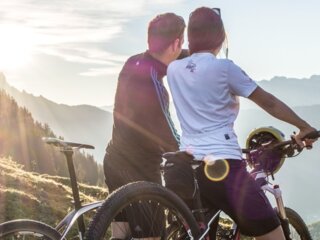 Equipment
Rent high-quality bikes at the Waidring bike rental shop
Our bikes & e-bikes
Top equipment to meet all requirements
From the classic mountain bike, the e-bike as a low-entry bike and the popular e-mountain bike through to full-suspension e-bikes, you'll find the best bikes and e-bikes in the bike rental shop at INTERSPORT Kienpointner – for young and old!
Only the best is good enough! That's why our Intersport rental fleet consists solely of high-quality brand-name bikes. So, you can look forward to top mountain bikes and full-suspension e-bikes from Genesis, KTM, Ghost and Scott.






We are e-bike!
INTERSPORT Kienpointner is the e-bikes servicing partner for BOSCH and Shimano. We offer top service for e-bike riders: our bike specialists are your first port of call for professional diagnoses, updates and battery tests, as well as for repairs and replacement parts.