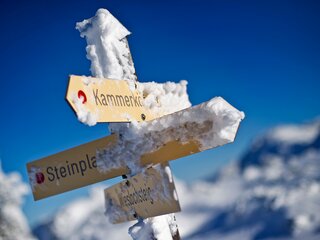 Waidring – your holiday destination in the Pillersee Valley
Idyllic little place on Steinplatte
Skiing, cross-country skiing, hiking and e-biking in the midst of the Kitzbühel Alps in Tyrol
Waidring is the ideal location for mountain hiking and biking. The popular "Triassic Park", with its breath-taking observation platforms on Steinplatte which are accessible throughout the year, will transport the entire family back to prehistoric times, and has numerous attractions for young and old. In addition to the snowy skiing paradise of Steinplatte-Winkelmoos, Waidring offers many other leisure activities in the winter such as cross-country skiing, winter hiking, tobogganing, and many more.
In the summer, the Steinplatte hiking region is something of a paradise for hikers and mountain bikers. The extensive e-mountain bike tours on Steinplatte take the sporty summer guests all the way to Reit im Winkl in Bavaria or to the Lofer Mountains in Salzburg.
You can take a relaxing dip in a modern open-air pool or in the nearby Pillersee lake – a real natural wonder.
Winter fun in Waidring
Get active with the whole family
Experience an active winter holiday in Waidring. Many kilometres of cross-country skiing trails take you through the snow-covered landscape. Or would you rather be out and about in the snow away from the trails? Then you can explore the area on a snowshoe hike. For families with children, there are sledge rides. The most popular winter sport in Waidring is skiing. The well-known Steinplatte ski resort, which has 42 kilometres of top ski slopes and the latest lifts, is directly above the Tyrolean holiday destination. It is best suited for families and leisure skiers thanks to the wide and well-groomed slopes.
Families can find everything they need for an active winter holiday on Steinplatte at the INTERSPORT Kienpointner ski rental shop in Waidring.
3 Länder Freizeit-Arena
1 ski pass combines 13 venues
The Steinplatte resort is partnered with the 3 Länder Freizeit-Arena: a ticket network for the ski resorts in Waidring-Steinplatte, Reit im Winkl-Winklmoos, St. Jakob in Haus – St. Ulrich am Pillersee, St. Johann in Tirol/Oberndorf/Eichenhof, Kirchdorf in Tirol, Lärchenhof in Erpfendorf, Almenwelt Lofer with St. Martin bei Lofer and Weißbach bei Lofer, Unken/Heutal.
Everything you need to know about the 3 Länder Freizeit-Arena card – including prices
What else might interest you?
Tirol Snow Card
SuperSki Card