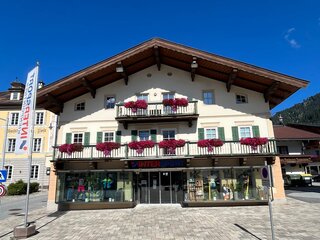 Centre of Waidring - Bike Rental
Contact
Centre of Waidring
Dorfstraße 6
6384 Waidring in Tirol
Austria

opening times
all opening times
Opening hours summer
summer start: 11.04.2022
11.04.2022 - 12.12.2022
monday - friday
08:30 - 12:00, 14:30 - 18:00 o'clock saturday
08:30 - 12:00 o'clock
Opening hours winter
winter start: 13.12.2022
13.12.2022 - 03.04.2023
monday - friday
08:30 - 12:00, 14:30 - 18:00 o'clock saturday
08:30 - 12:00, 15:00 - 17:00 o'clock sunday
09:00 - 12:00, 15:00 - 17:00 o'clock
Sports shop in the centre of Waidring
INTERSPORT Kienpointner – your sports expert in the Steinplatte region
You'll find INTERSPORT Kienpointner – the sports retailer with tradition – located right in Waidring town centre. You'll find suitable functional wear for any weather and many different types of sport spread across 500 m². We offer a broad range of products with well-known brands and competent service. Together, we're guaranteed to find the right sports equipment for you. Drop by and find out for yourself!
Whether it's winter, summer, spring or autumn and for running, skiing, biking, climbing or hiking, you'll find the latest models and attractive offers. Brands build trust. Are you looking for a specific brand? You can find an overview here.
Our shop at the valley station
INTERSPORT Kienpointner at the Steinplatte cable car
You'll find our second shop right inside the Steinplatte cable car valley station. You can look forward to a range of top, modern rental equipment, a heated ski depot and a convincing range of services.